Milton Cottages at Milton Country Retreat – South Coast NSW…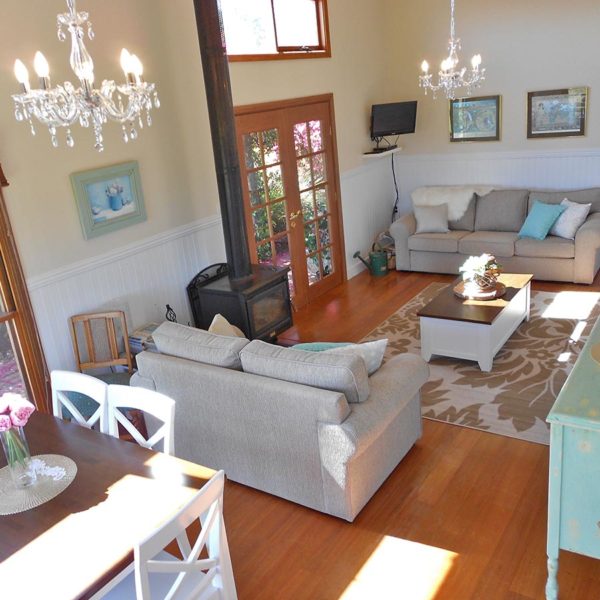 Stunning Milton Cottages with rural and mountain views
Our gorgeous Milton Cottages are located on  a 25 acre property an easy 14 km drive from the South Coast town of Milton. Conveniently located 2.5 hours from Canberra and 3 hours from Sydney. Set in a beautiful green valley it looks across to magnificent views of 'Pigeon House Mountain', 'The Castle' and boasts 180 degree views of the Budawang Ranges.
This is the perfect Milton Cottage as it borders two cattle grazing properties you can enjoy the sight of cattle grazing throughout the day. Surrounded by extensive bush and grazing country we also enjoy the company of the local kangaroos, echidnas, wallabies, king parrots, rosellas, galahs, grass parrots, lorikeets, a rare lyre-bird and a blue bower bird who has built a bower in the home garden.
The secluded Hayshed cottage is located some 300m from the main house, ensuring your privacy. Located within an easy drive of Mollymook and Narrawallee Beaches, the historic township of Milton and the beautiful Ulladulla fishing harbour. This is your perfect Milton Cottage for your next family or couple getaway…
Our Weekend away, celebrating my Mum's 80th and our Wedding Anniversary was wonderful! The accommodation and property were gorgeous, but the personal touches were so special. Everyone, from my 8 year-old son to my 80 year old Mum were really impressed with everything. We enjoyed our privacy, and of course plenty of space for the kids to run around in. Having the pool to ourselves was a highlight for the kids, and a real luxury for us. We will definitely be recommending this to friends and family!
Set in a beautiful location and very well presented with a fantastic country charm. We arrived to lovely music playing throughout the property, chocolates for the adults and a small present for our son. One of the nicest places we've stayed, with lots of thought and attention to detail put into the presentation and the look; we felt right at home. And the bathtub is amazing, so relaxing!